Full Mouth Reconstruction in Gaithersburg
Full-mouth reconstruction, full-mouth rehabilitation, and full-mouth restoration are terms often used interchangeably to describe the process of rebuilding or restoring all of the teeth in both the upper and lower jaws simultaneously. Your dentist, who has years of experience working with the materials and procedures related to full-mouth reconstruction, will develop a plan that addresses all your needs and will leave you with a perfect smile, ideal bite, and optimal function.
You may be a candidate for full-mouth reconstruction if:
Your teeth have been lost due to decay or trauma
Your teeth have been injured or fractured
Your teeth have become severely worn because of long-term acid erosion (from foods, beverages, or acid reflux)
You have ongoing jaw, muscle, or headache pain related to your bite
The extent of your reconstruction will depend on the condition of your teeth. Your dentist may recommend crowns, bridges, veneers, or implants to restore your smile to its best possible condition. He or she will also address the state of your gum tissue, as the health of your gums may impact the type of restorations you receive.
Your treatment plan will entail a step-by-step process detailing all aspects of your reconstruction. The duration of your treatment will depend on the extent of work needed, but in the end it will all be worth it. Your teeth, mouth, and smile will be healthy and beautiful for the rest of your life.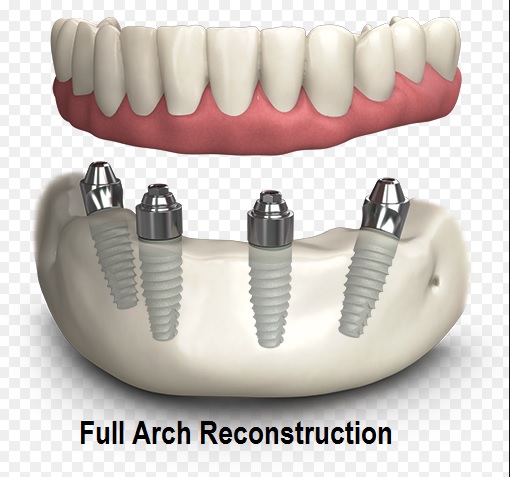 All-on-4® in Gaithersburg
A new, beautiful smile in just one day!
Maintain optimal oral function and aesthetics with All-on-4 same-day teeth replacement. Using state-of-the-art technology, All-on-4 treatment replaces traditional dentures, which can be uncomfortable, inconvenient, and poorly fitted. All-on-4 turns problematic chewing and speaking into relics of the past.
Using only four dental implants to attach a full dental restoration, your doctor can give you the stable, functional, and cosmetic solution you've been looking for. Best of all, your dentures can be placed on the same day as your implants, so you don't have to wait to get the restored smile you deserve.
The Benefits of All-on-4
Because All-on-4 allows full-arch restoration with only four implants, your treatment and recovery time are greatly reduced. All-on-4 lowers the need for bone graft surgery while ensuring greater stability in the existing bone. It can even be used for patients who have been told they do not qualify for implants due to bone loss.
The All-on-4 solution is more comfortable than traditional dentures because All-on-4 implants are more secure and feel like natural teeth. You'll never have to worry about your false teeth slipping or falling out while you eat or engage in conversation. There is no need for denture adhesive!